Nurses for Social Justice
Nurses for Social Justice is a nonprofit organization focused on keeping impoverished people out of prison
We connect public defenders with nurses who can provide high-quality, low-cost medical record reviews and unbiased expert witness testimony.
Our free continuing legal education (CLE) presentations on medical records and typical injuries they see in criminal cases assist public defender is better defend their clients and we encourage nurses and other medical professionals across the country to get involved in social justice issues.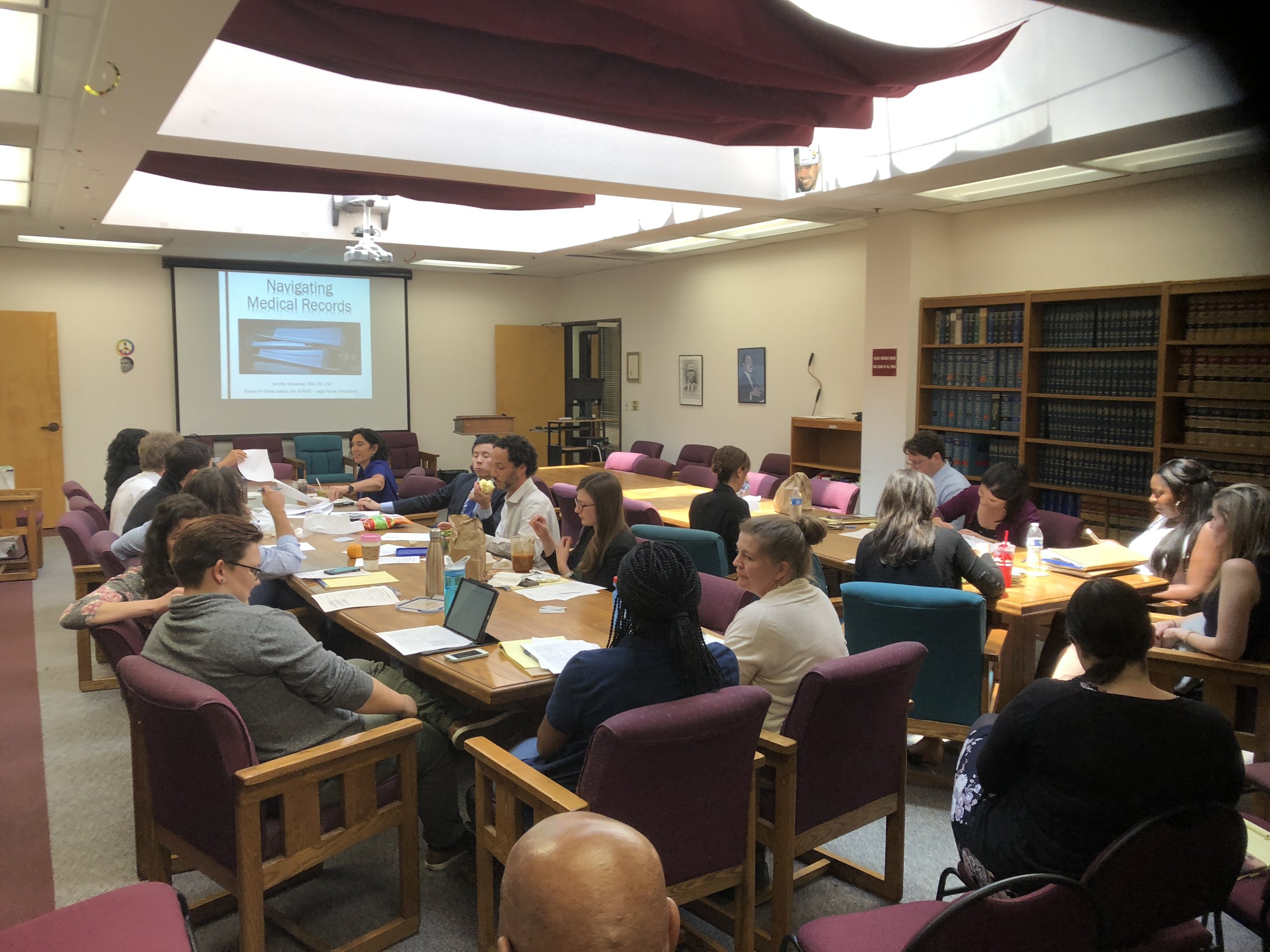 continuing legal education
Continuing Legal Education
pro bono CLE
We teach attorneys the layout of medical records and provide resources so that they are better able to defend their clients.
Attorneys are given the tools necessary to locate and interpret lab results, radiology reports and EMS forms. We discuss common injuries in criminal cases and their treatment. Attorneys learn how to determine if pages are missing and where to find the most pertinent and concise information in a large stack of records. Participants leave with dependable resources for defining medical terminology, learning about diseases, injuries, medications and treatments as well as a database of experts for review and testimony.
CLE presentations can be during the lunch hour, at the end of the day or as a part of a conference.
"Excellent speaker, informative, great audio visuals."
-Anonymous Evaluation
"Your study and work on the medical aspects of the case were incredibly helpful and allowed us to narrow the issues for trial…Thank you for your hard work and insight. I really value the work you did."
-Lacey Parker, Esq.
"Awesome, entertaining, knowledgeable. Took a potentially dull topic and had an engaging presentation."
-Anonymous Evaluation
"Thanks for your great presentation last week! I've already bookmarked a bunch of references you shared."
-Bridget G.
"Very knowledgeable and great presenter; thank you for providing this valuable resource at no charge!"
-Anonymous Evaluation
AFFORDABLE MEDICAL RECORD REVIEW
You wouldn't ask your plumber to do your taxes so why expect your public defender to interpret medical records?
We believe that all legal cases involving medical records should have a medical professional interpreting them.
We offer affordable medical record reviews by unbiased medical professionals who take time to educate the attorney they
are working with and understand the financial constraints of the public defenders systems.
Follow up is included so that attorneys are not limited in the time they work with us to fully understand the medical records. We explain the inner workings of hospitals, translate medical terminology and use images to explain injuries, anatomy and physiology.
EXPERTS
We are creating a database of unbiased experts dedicated to charging fees that are affordable for non-profits and public defender organizations across the country - so tell everyone you know who works in healthcare to connect with us!
We will announce when the database via our "newsletter" once it is up and running - you can sign up for announcements in the Keep In Touch section!
WHAT'S NEXT?!
From April 1st to June 31st Executive Director, Jennifer Grossman, will be traveling cross country again delivering pro bono CLEs to public defenders!
You can follow her on all the social media, join her at one of the presentations or request that she stop by and give a presentation on medical records or injuries!
Let's Keep In Touch
JGrossman [at] Nurses4SocialJustice [dot] org
six four six eight five four two five six two
This is the winnebago Rialta rv that we use to travel across the country to give pro bono Cle presentations on medical records.
we travel this way to reduce costs on flights, hotel rooms and meals!
(scroll down to see our latest adventure)
adventures in continuing legal education
Nurses for Social Justice is hitting the road again to deliver pro bono CLEs across the country. Check back often for updates - or join the mailing list!
Upcoming 2019 Presentations
spring tour 2019
April 5-6 Louisville, KY AALNC conference
April 8 Frankfort, KY
April 9 Nashville, TN
April 12 Wilmington, NC
April 15 Richmond, VA
April 16 Charlottesville, VA
April 18 Washington, D.C.
April 23 Augusta, GA
April 26 Jacksonville, FL
May 2 Miami, FL
May 9 Birmingham, AL
May 16 Houston, TX
May 31 Colorado Springs, CO
June 5-6 Albuquerque, NM
June 10 Las Vegas, Nevada
June 14-16 Portland, OR
June 18 Oakland, CA
June 19 Fairfield, CA
June 24 Santa Monica, CA
Summer 2019
July 18 Luzerne, PA
Fall 2019
August 16 Columbus, OH
October 11 Brainerd, Minnesota
Winter 2019
November 7-8 Milwaukee, WI
Donations keep us working
It's not news that the US has the world's highest incarceration rate. Most of those incarcerated are young black and Latino men, 70% of the people in jail are being held pretrial and 97% enter plea deals - they never get a change to go to trial.
Those numbers are insane.

Nurses for Social Justice was officially formed in June 2018 to help close the gap between prosecutors and defenders. Our Executive Director has been educating public defenders about medical records and injuries in criminal cases since 2014 and in the first half of 2019 she presented to over 800 public defenders, social workers and investigators in 16 states with more presentations scheduled.

We are a small, efficient and extremely productive nonprofit focused on keeping impoverished people from being incarcerated. We help public defenders find experts who won't charge an arm and leg because they understand how unbalanced the criminal justice system is and we travel cross country educating public defenders for free - because the more they understand medical evidence the better they can defend their clients.
We are the only organization in the country providing this specific type of assistance to public defenders and their clients – people who are facing the overwhelming obstacles of a racist criminal justice system.

Please join us in this effort while we work towards our 2020 CLE Tour and apply for grants.
Sustaining donors give us a dependable base to work from because we know we can keep educating, grant writing and reviewing records as we grow and move forward with larger projects. Currently, sustaining donors are keeping the office running but we will need a lot more help in 2020 while we secure grants. Please consider becoming a sustaining donor and spreading the news to friends and family (you can follow the CLEs and other shenanigans on social media)!
We absolutely could not have done any of this without the support of donors and we hope that you will consider donating. You can do that here, on our web site or by mailing a check via snail mail. If a monthly donation isn't for you please consider donating $20, $50, $100, $200 or more - all donations go directly to keeping people out of prison.
FUnding and transparency
Nurses for Social Justice is OFFICIALLY a non-profit, tax-exempt organization under Section 501(c)(3) of the Internal Revenue Code and donations are tax-deductible to the extent allowed by law!!
Your donations enable us to educate public defenders and work with them directly by reviewing medical records, assisting with trial preparations and testifying at trial to keep people out of prison.
If you prefer snail mail, you can send a check or money order to Nurses for Social Justice, 1408 Myrtle Ave, Suite 2, Brooklyn, NY 11237
We want to thank our donors who have supported us while we were waiting for our tax exempt status to be approved. From 2012-2017 our CLE presentations were funded solely via our Executive Director. As of April 24, 2019 we are a tax-exempt organization effective June 12, 2018 meaning, if you donated after June 12, 2018 you may be able to claim that donation. We are dedicated to financial transparency and encourage you to find our annual statements on GuideStar as of May 6, 2019.
Nurses for Social Justice is a non-profit, tax-exempt organization under Section 501(c)(3) of the Internal Revenue Code. Donations are tax-deductible to the extent allowed by law.
Jennvine Wong - Founding Board member
Promoting activism and public service for positive community growth
Jennvine Wong is a public defender in the Manhattan office of the Legal Aid Society. Since 2012, she has represented thousands of New Yorkers in parole revocation and criminal proceedings. She advocates passionately for her clients before administrative, criminal, and supreme court judges. Jennvine has also served as an Emerging Philanthropist for the Women's Prison Association to raise awareness and funds to support criminal justice involving women. In addition, she served as the host committee co-chair for fundraisers to benefit the Sex Workers Project at Taj Lounge in the Flatiron District.
Jennvine is a lifelong New Yorker. Although she grew up in nearby Edison, New Jersey, she earned a Bachelor's degree in International Politics at NYU and Juris Doctor degree from Brooklyn Law School. She split her time between summer vacations in Hong Kong, weekly trips to Manhattan Chinatown, and New Jersey while growing up. Her professional development and passion for civil rights began with an internship at the Asian American Legal Defense Fund's Voting Rights Project, later completing a fellowship at the Urban Justice Center's Sex Workers Project.
Jennvine loves to spend time cooking and eating international cuisines with her friends and family. She helps support her partner's longboard community by participating in their seasonal events at local parks. Jennvine strongly believes in self-care and community building and is grateful for the diverse and supportive community she has built in her neighborhood.
Lisa Joy Kirschenbaum, RN, BS - Founding Board Member
Lisa Joy Kirschenbaum is a perinatal nurse in Western Massachusetts. She has over 25 years of experience and has been present for thousands of births. Lisa is a staunch patient advocate and is proud to work at a community hospital. In her spare time she facilitates a post-partum support group for patients of the hospital and is an active member of the JCA of Amherst, MA.
When she's not in the hospital she can usually be found in her garden, singing or supporting a local organization.
Christopher O'Brien - Founding Board Member
Christopher O'Brien is a recent graduate of UPENN Law. His first profession was as a singer/songwriter. He wrote, recorded, and performed original music, spending five years as a full-time touring artist. As an indie artist Chris managed, booked and oversaw every aspect of his career. Chris is using that experience at Goodwin and as a founding board member of Nurses for Social Justice. He has volunteered for the Hillary Clinton Presidential Campaign and Philadelphia Legal Assistance.
Jennifer Grossman, BSN, RN, LNC - Executive Director
Jennifer Grossman has been a registered professional nurse since 2006. She began her clinical career as a neurology-neurosurgery staff nurse at New York Presbyterian Hospital and learned the ins and outs of hospital administration as the outpatient Clinical Nurse Manager at Mt. Sinai Hospital's Primary Care Associates.
During her clinical career she began working with public defenders in New York City and then gained experience mass torts, personal injury, medical malpractice and criminal law. She has experience reviewing medical records from all over the country, giving her vast knowledge of electronic medical records (EMR), medical terminology and chart organization - which she shares with defenders across the country through the Nurses for Social Justice CLE program.
Jennifer has too many hobbies including baking, sewing and travel. She is a member of the American Association of Legal Nurse Consultants and the Medical Reserve Corps of New York and has been a volunteer at community medical centers in New York, New Orleans and more recently with Remote Area Medical. She is dedicated to standing up for the exploited and powerless.